Welcome to Roosevelt County!
Roosevelt County was created in 1903 from the parent counties of Chaves and Guadalupe. The County Seat is Portales.
Roosevelt County is a member of NMGenWeb and USGenWeb.
The Roosevelt County Court House is located at 109 W 1st Street, Portales, NM 88130.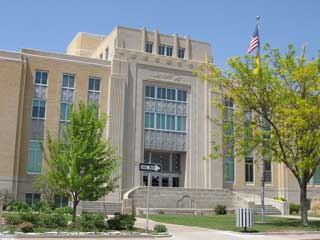 Roosevelt County Court House by Christian M. Mericle. Licensed under CC BY 3.0 via Wikimedia Commons.
Roosevelt County Clerk's Web page
Roosevelt County Records Online document searching
Visitors can search most documents recorded since January 1, 1903, although not all documents are online.
Portales Public Library
218 S Avenue B
Portales
Contact information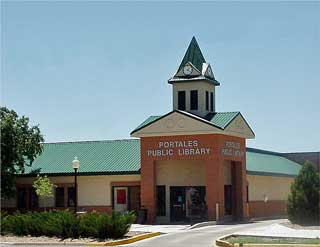 Picture by Barbara Klapperich Senn. Submitted on 12/4/2004 http://www.city-data.com/picfilesv/picv6396.php
Roosevelt County Coordinator:Susan Bellomo
The New Mexico State Coordinator is Susan Bellomo.
The New Mexico Assistant State Coordinator is Leon Moya.
If you would like to adopt an NMGenWeb county, or would like to volunteer to do lookups, please contact us.