"In August of 1981 several of us went with two archeologists-historians who were doing a required survey of the government owned Melrose Bombing Range. The surveyors were David Hodder and Morlin Childers. The others local men were Ridge Whiteman, Jack Greathouse, Hugh Law and myself, Don McAlavy.
We met Robert Grider who owned a ranch on the bombing ranch, or did, until the bombing range expanded and he had to give it up.
As far as Robert Grider is concerned there are about three old timers who know the history of that area: Milt Martin, Bug Andes, and Henry Elliott. A piece of history is buried on the Grider Ranch. Robert's grandson, Kenneth, showed us a grave site south of their place which contains at least four people who died during the homestead period. Edgar Foreman, another rancher, once told of burying a Mrs. Will Cullup there. There is only one stone at the site and it says that Susan E. Alexander, wife of A. C. Harris, born November 6, 1835, died April 22, 1909, is "sweetly resting" there now. The Griders were told that a baby is buried there too.
<![if !vml]>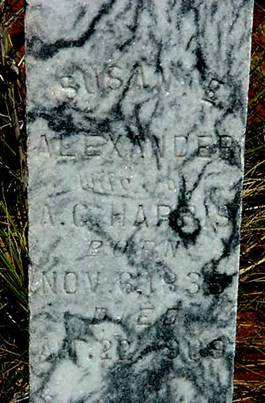 <![endif]>
Photo by Rick Chandler